There's nothing worse than dry, itchy skin when the temperatures start to drop. I've always suffered from dry skin in the winter, but this year has been the worst. My face and hands were red, chapped, and splitting until I recently found a few helpful skin care products. In my opinion, these are the best skin care products for the winter.
Protecting My Hands from the Dry, Cold, Winter Air
My hands are the first place to show signs of a lack of moisture during the winter. The skin around my fingernails actually splits from being so dry. I also develop itchy patches on the palms and tops of my hands. In the past, lotion was a quick fix, never actually providing enough moisture to take away the uncomfortable and painful symptoms of dry skin. Taking notes from how we treat my youngest, Ailey's, eczema, I started using two different skin care products on myself.
Dove Soap
Between Dove Body Wash and Dove Hand Soap, I've noticed a significant change in how my hands (and body) feel and look. If I use anything else when washing, the negative effects are instantaneous. Dove is a gentle cleansing soap that puts moisture back into your skin instead of pulling it out. Make sure you don't ever use extremely hot water when washing as it is drying as well (even though I just took the hottest shower to warm up)!
Aquaphor
The first time Ailey had a scaly patch on her leg in the winter the pediatrician told me to use Aquaphor Baby healing ointment on the area. Her skin felt smooth and soft in just a few hours. Just a month ago it dawned on me to use regular Aquaphor on my own dry skin. It is the ONLY thing that has worked to keep my hands from feeling awful, as well as the rest of my skin on my body. Aquaphor is different than a lotion or cream because it is an ointment made with products that allows oxygen to flow while healing damaged skin.

My Winter Face Skincare Routine
The skin on my face is really tricky – sometimes its oily, sometimes its dry, sometimes it breaks out in weird rashes. For the last few months I've been using a gentle foaming face wash by Cetaphil evening evening and sometimes in the morning. There are days when I just rinse my face with cool water. Even though it is not supposed to dry out your skin, it helps keep the oily spots on my forehead less oily that other face washes I've used. And I've tried many different face washes in my adulthood.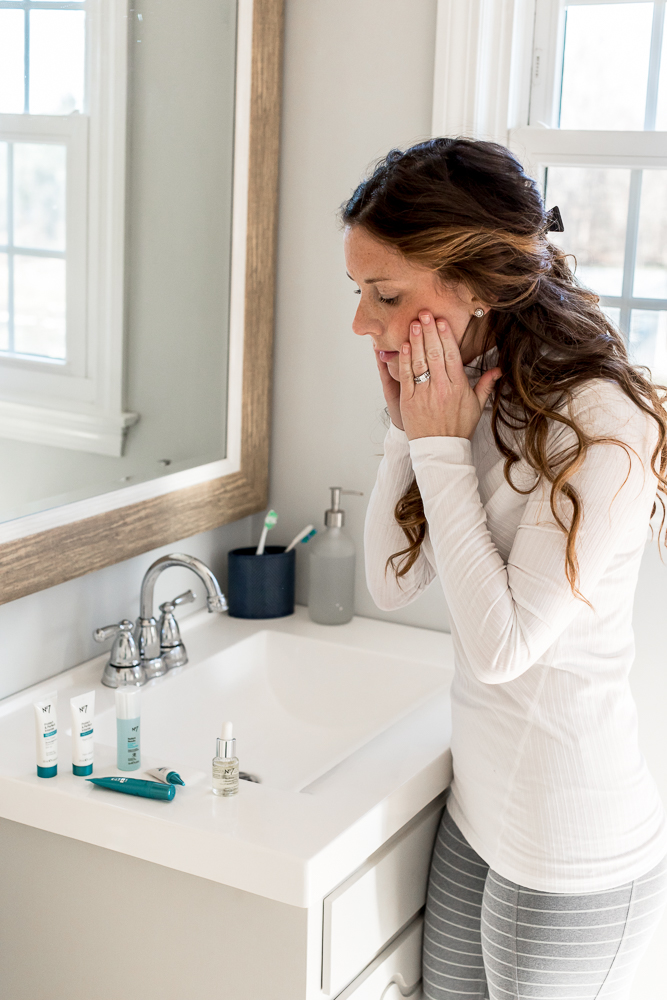 After my face dries I follow a little skincare routine. I only began this routine three weeks ago, but I've already seen incredible results. The No7 Protect and Perfect line has visibly improved my skin's moisture retention, reduced fine lines, and perked my tired Mama face up. I apply the Advanced Eye Cream under and around my eyes first. Then I use the Advanced Serum followed by either Day (SPF 30) or Night Cream. On days my skin feels dry I rub a few drops of the Replenishing Oil all over my face for a lightweight, but moisturized feeling. If you're wondering about my lip care during the winter, I wrote a whole post about my lip care routine.
I Up my Face Mask Usage
Face Masks are a saving grace for my temperamental skin. During the winter I up my face mask usage, especially when its comes to anything that is moisturizing. I love to use a charcoal mask to clean out my pores and then a moisture surge mask. Under eye patches that hydrate and firm the skin are another one of my favorite skin care products.
Don't neglect your skin this winter – make sure to stay hydrated (lots of water!) and always wear SPF (even if the sun isn't shining).
Looking for more fantastic posts to read today? Check out my fellow Connecticut Blogger Babes in our January Blog Hop!
You are invited to the Inlinkz link party!Click here to enter
Caitlin Houston is a Connecticut based life and style blogger.